"Shadows Sessions" is an existential and reflective musical journey over the course of 10 songs in the intimate style of the acoustic guitar singer-songwriters from the 60-70s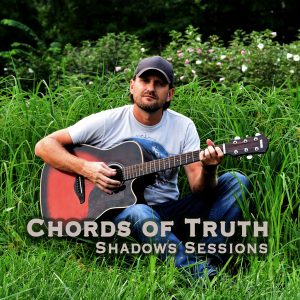 Coming September 17th is a new Chords of Truth album.
Listen now to Shadows Sessions Here
For the past decade, Jason Garriotte (aka "Chords of Truth") has been writing, recording, and performing his original music along with acoustic covers of classic folk songs… at venues all over the United States.
In 2012 he released his debut acoustic EP "Reflections of Reality" followed by the critically acclaimed "Reflections of Reality (Remixed Double LP)" involving collaboration with 14 producers that generated 57 EDM Folktronica remixes spanning the genres of Dubstep, House, Trance, Hip Hop, and more… from the 7 original acoustic folk songs.
After a string of singles released over the past several years, Jason has recorded Shadows Sessions using just his voice, his words, and his acoustic guitar.
PASTE Magazine wrote of previous release "Wonder"
"Garriotte's heavenly voice evokes emotion and a whimsical feel throughout, as he pulls at your very heartstrings. Taking a page out of the book of artists such as Cat Stevens and Leonard Cohen…"
Huffington Post said about Remixed Project
"Jason Garriotte appears to be following in the steps of Dylan by reaching a different type of folk and changing the aspects of the experience."
Jason is also a professional Pickleball player and instructor, recently winning the 2021 US Open 5.0 Singles 35+ Division. Along with being a former ATP/ITF Professional Tennis Player and NCAA Div 1 College Coach.
As a content creator, His goal is to inspire.
As his Twitter bio says:
#Introspective #AcousticFolk #SingerSongwriter 🎤 on a journey to help inspire us all to experience a life full of freedom, happiness 😀, beauty 🌹, and love ❤️
It's definitely been a crazy time… and so many people have had a really tough period of sadness and loss. While others have experienced a windfall of wealth and power.
There's something big happening though… that is waking people up to the reality of the situation.
It's a battle for truth… and freedom… which is a matter of perspective! Which happen to be the themes of many Chords of Truth songs.
So… while everything was locked down and he had the time and space to do it, Jason recorded a new album that may be both timeless and topical. And now will be hitting the road for the near future connecting with people around the US performing music and playing Pickleball.
——————————————
Click Here for Press Folder
This article was originally published by IssueWire. Read the original article here